Post Views: 107
Are you eager to feel the joy of becoming a parent?
But infertility is preventing you from conceiving?
Then, intrauterine insemination (IUI) treatment in Mumbai might be an excellent choice for you. It is among the first and most popular fertility treatments to help conceive.
IUI has several benefits over conventional insemination. At Babies & Us, our proficient fertility specialists in Mumbai often recommend it as the first treatment for people having trouble getting pregnant.
IUI is one of the safest, most effective, and relatively affordable fertility treatments we provide at Babies & Us, one of the best IVF center in Mumbai.
Our IVF clinic is led by renowned infertility experts and IVF doctors in Mumbai who have years of experience in reproductive medicine. They have extensive knowledge of assisted reproductive technologies, like IUI, IVF, ICSI, IMSI, and many other relevant procedures.
Please read this article to learn about IUI, its process, benefits, and other details.
Overview of Intrauterine Insemination (IUI) Treatment
IUI is used by people who are unable to get pregnant naturally. It makes it easier for sperm to move from the vagina to the fallopian tubes by overcoming the obstacles that prevent conception. IUI shortens the distance between the sperm and the egg in the fallopian tube. It is a less invasive method of conception.
By injecting concentrated motile sperm into the uterus, this fertility procedure aims to combine the sperm and the egg. IUI is performed under close observation and is timed to occur during ovulation.
Ideal Candidates for IUI
IUI reduces the distance sperm must travel to reach the egg, increasing the chances that they will successfully penetrate and fertilize it.
Men with infertility issues due to a low sperm count or low sperm motility can benefit from IUI. The best sperm are chosen and released during IUI, increasing the likelihood of conception.
Endometriosis and PCOS are two hormonal disorders that can interfere with ovulation. For women who struggle with ovulatory dysfunction, IUI is beneficial.
Because the injected sperm might not travel to the egg, the procedure is typically not suggested for women with tubal blockage.
According to studies, the success rates of IUI are also lower for older women, women with low ovarian reserves, and women with severe endometriosis. In these cases, the doctor may suggest IVF over IUI.
Steps Involved in IUI Procedure
IUI is a well-established procedure that continuously adopts new fertility technologies worldwide. There are five key steps in it.
Step 1: Ovulation Stimulation
While IUI can be scheduled to a woman's natural ovulation cycle, ovulation is typically stimulated through fertility medication when natural ovulation doesn't follow a set pattern.
Step 2: Semen Collection
A sample of semen is obtained from the male partner during the days before ovulation. Usually, it is advised to abstain from sexual intercourse for two to four days before sample collection. This will help improve the sperm's quality and quantity.
Step 3: Processing the Sperm
The semen is appropriately treated after the sample collection. The seminal fluid is sieved in this procedure to obtain good-quality sperm and remove impurities.
Step 4: Cleaning the Cervix
Usually, IUI is executed on the day of ovulation. A speculum or a beak-shaped device is used to clean the vagina.
Step 5: Sperm Insemination
The doctor injects the processed sperm sample that only contains high-quality, healthy, motile sperm into the uterine cavity through a tiny tube called a catheter.
The doctor will ask the female partner to have a pregnancy test two weeks after IUI to determine whether the procedure was successful.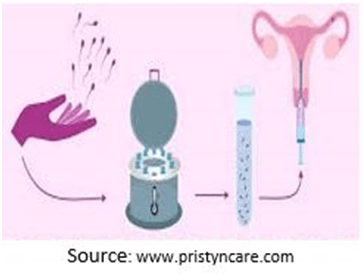 Your doctor may perform blood tests and ultrasounds to closely monitor your pregnancy if you are expecting. The doctor may prepare a new treatment cycle or look into other treatment options if your test is negative.
Benefits of IUI
IUI is a painless, cost-efficient, and effective first step in getting pregnant.
The removal of eggs from a woman's uterus is not required for IUI, so there is a lower risk of complications.
General anesthesia or sedation is not needed during IUI. Therefore, there is no possibility of complications during or after the procedure.
A woman who wants to become pregnant using donor sperm can benefit from IUI.
To create specialized treatment plans for improved outcomes, IUI is usually coupled with complementary technologies.
IUI can be customized to meet various needs, from surgical sperm collection to ovulatory control.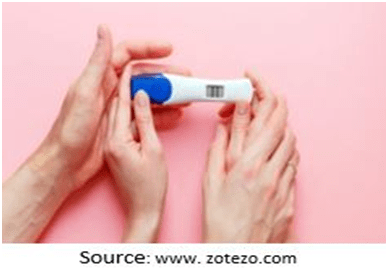 Risks Associated with IUI
IUI is a relatively simple and safe procedure with few risks, including:
1) Infection: There is a slight chance of getting a mild infection after the procedure.
2) Minor spotting: This may happen for a few days as the catheter is inserted into the uterus.
3) Multiple pregnancies: Although uncommon, they are possible when taken with ovulation-inducing drugs.
What is the Success Rate of IUI Treatment?
This question doesn't have a clear-cut answer. Your age and the primary reason you have an IUI will be the main determining factors.
Actual information on IUI success rates can be challenging to find because studies include a wide range of patient groups, age groups, fertility problems, etc.
But despite being less invasive and more affordable than IVF, IUI is known to be less effective. According to research, women who are infertile for unknown reasons have a 20 to 25 percent chance of becoming pregnant over several cycles.
IUI success rates for women under 35 who opt for the procedure because they aren't getting regular periods can reach 50% throughout three to six cycles.
If the IUI procedure does not yield positive results, the next logical step is to pursue IVF treatment, which, with the current advancements, offers up to an 80% chance of successful pregnancy.
The miracles of science can make the impossible possible. Soon, you might be able to hold your child in your arms. So, keep your hope and spirit alive.