Frozen Embryo Transfer in Mumbai
Babies & Us Fertility IVF & ICSI Center, a state-of-the-art IVF center in Mumbai, is known for its advanced, holistic, and innovative fertility treatments. We offer a wide range of cutting-edge procedures, including IVF, ICSI, IMSI, sperm retrieval, and frozen embryo transfer in Mumbai.
Our highly skilled fertility specialists give tailored treatments based on recent advances in reproductive medicines.
We serve people from all around India and from other countries. They prefer visiting us as they are assured of getting high-quality, cost-effective fertility treatments under some of the best IVF doctor in Mumbai.
Overview of Frozen Embryo Transfer (FET)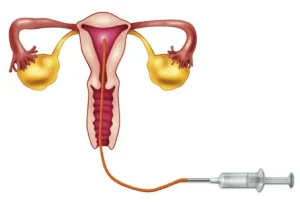 Frozen embryo transfer is a procedure that involves thawing and transferring frozen embryos from your previous IVF cycle into your uterus.
FET can improve your pregnancy prospects, saving you money and time if you require multiple cycles to get pregnant.
Frozen embryo transfer in Mumbai has become a more suitable method to explore before starting a new IVF cycle, owing to its greater success rates.
Why should you consider frozen embryo transfer?
At Babies & Us, one of the best IVF center in Mumbai, we recommend frozen embryo transfer to couples due to the following reasons:
Have additional embryos:  Multiple eggs are fertilized during an IVF cycle, but we transfer not more than a couple of embryos to the uterus. If you want, you can cryopreserve the remaining embryos for future use. In case your IVF cycle is not successful, you can use these cryopreserved embryos for the next cycle.
Choose elective procedure: With newer advancements in fertility treatment, many couples select a Freeze-all IVF cycle. It is expected to deliver similar or better results than a fresh IVF cycle. It also allows additional treatments like preimplantation genetic testing and avoids ovarian overstimulation.
Undergo Genetic screening: Some couples are anxious about transmitting a genetic condition to their offspring, so they want to use a preimplantation genetic test to scan the embryos for certain genetic disorders or defects. Since the findings take time, we cryopreserve the embryos and transplant them later.
Expand the family: After a positive IVF cycle, you may want to use your cryopreserved embryos to have another child.
What is the procedure for frozen embryo transfer in Mumbai?
Step 1 – Preparation for FET
Our IVF doctor in Mumbai will begin the treatment by getting the endometrial lining ready for FET. You will be given estrogen pills for some days and then progesterone. We will track your progress via ultrasound, and if everything appears normal, we will plan the embryo transfer.
Step 2 – Embryo Transfer
Five days after you start taking progesterone, we will safely defrost your embryos in our laboratory. Our fertility specialist will place the embryo in your uterus with the help of ultrasound, where it will implant and develop into a successful pregnancy.
What are the benefits of frozen embryo transfer?
Less demanding and stressful
It offers a better success rate
Can be planned at a convenient time
Allows space for PGT
It provides a normal uterine condition for conception
Less expensive than IVF
What are the risks of frozen embryo transfer?
Ectopic pregnancy
Infection
Multiple pregnancy
Thawing can damage the embryo
What is the frozen embryo transfer cost in Mumbai?
As you will not require artificial insemination, egg retrieval, and embryo culture during FET, it helps decrease the frozen embryo transfer cost in Mumbai compared to the fresh IVF cycle. Even the medication charges are significantly lower.
Babies & Us is one of the best IVF center in Mumbai for affordable and effective frozen embryo transfer. Our clinic has an ultra-modern lab and cutting-edge equipment and technology.
What is the success rates of FET in Mumbai?
Frozen embryo transfer success rates at our IVF center in Mumbai, Babies & Us, are around 50 to 60%. This treatment offers a higher success rate than fresh IVF treatment.
Thanks to recent breakthroughs in freezing procedures, FET increases pregnancy and live birth rates, lesser miscarriages, and healthier new-borns.
Furthermore, FET-born children have a higher weight at birth and are born closer to the term.
Why choose us for frozen embryo transfer in Mumbai?
We have some of the best IVF doctor in Mumbai who have years of experience and expertise to handle the most complex cases easily. They have been instrumental in realizing the dreams of countless couples to become parents.
We have patients coming to us as they believe in our approach, trust our abilities, and know they will get the most advanced fertility treatment.
The success rates for frozen embryo transfer are among the highest in the city, making us one of the best IVF center in Mumbai.
Frequently Asked Questions
The quality of the embryos when they were cryopreserved, and their capacity to survive the freezing and thawing, will determine the effectiveness of the thawing process—the survival rate at our clinic is around 97%.
A blastocyst transfer has a higher likelihood of implanting as the embryos are in an advanced stage after five days of development.
On the same day as the embryo transfer, the embryologists will thaw the embryos. There must be at least two hours between embryo thawing and embryo transfer to allow time for observation of embryo development and the removal of any remaining cryopreserved media.