Male Infertility Treatment in Mumbai
Infertility is a common issue among men. According to research, around one couple in seven is infertile. They have problems in conceiving even are trying for 12 months or longer.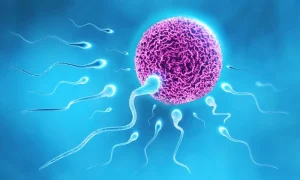 However, male infertility does not imply that you cannot father a child. There are treatments available that can help you. Babies & Us Fertility is at the forefront of offering advanced and effective male infertility treatment in Mumbai. We are one of the best IVF center in Mumbai that provides safe, affordable, and personalized fertility treatments and procedures to couples to help them become parents.
Our ultra-modern facility excels in IVF, ICSI, IMSI, FET, and sequential transfer. We also offer reliable semen freezing procedure in Mumbai.
Continue reading to learn more about the causes, symptoms, and treatment options for male infertility.
Let's begin with what is male infertility?
Male infertility is a health condition that stops men from impregnating their female partners. This can happen for several reasons, such as poor sperm production, blockage, health issues, etc., which we have discussed below.
But be assured there is advanced male infertility treatment in Mumbai at our center that will help resolve your issue.
What are the symptoms of male infertility?
Other than the inability to father a child, there may be no other symptoms. However, some underlying problems may cause signs and symptoms, including:
Low sex drive
Difficulty in getting or maintaining an erection
Pain, swelling, or lump in the genital area
The small volume of ejaculate
Gynecomastia
What are the causes of male infertility?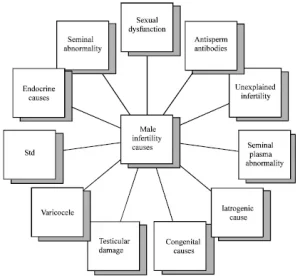 There are several causes of male infertility, such as:
An unhealthy lifestyle like smoking, excessive consumption of alcohol, use of anabolic steroids, or illegal drugs.
Hormonal disorders that affect your pituitary or hypothalamus glands
Varicoceles
Injury to the testes
Cancer treatment, including chemotherapy or radiation
Medical conditions like infections, diabetes, cystic fibrosis, or autoimmune diseases.
Genetic diseases
Oligospermia (poor quality sperm)
Malformed sperm
Azoospermia (inability to produce sperm)
Who is more likely to have male infertility?
Factors that make some men more likely to experience infertility are:
Older than 40 years
Obese
Smoking
Undescended testicles
Exposure to radiation
Taking certain medications
Exposure to environmental toxins like pesticides, lead, etc.
Overheating the testicles
Tight clothing
Stress
Dietary deficiency
Excess exercise
Prior pelvic or abdominal surgery or vasectomy
How is male infertility diagnosed?
Our fertility specialists at Babies & Us, a trusted IVF center in Mumbai, will perform a physical examination and ask about your medical history.  They may ask you to undergo various tests to find out the root cause of your infertility. They include:
Semen analysis: Semen analysis is done to check the sperm for abnormalities. It evaluates the sperm count, shape, and motility. This test is repeated several times to get an accurate result.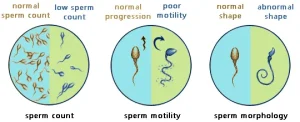 Hormone testing: As hormones are necessary for sperm production and sexual development, their levels are measured through blood tests
Scrotal ultrasound:  It is done to detect issues in the testicles and surrounding structures, such as varicocele.
Transrectal ultrasound:  It checks the tubes that carry semen for blockages.
Genetic testing: This test is done to rule out inherited or congenital syndromes.
Post-ejaculation urinalysis: It is done to see whether the sperm is traveling out of the penis during ejaculation or backward in the bladder (retrograde ejaculation).
What are the options for male infertility treatment in Mumbai?
We at Babies & Us Fertility offer a number of male infertility treatment in Mumbai. Our exceptionally experienced doctors provide treatment based on your fertility issue.
Treatments include:
Surgery: Our fertility specialist may perform surgery to correct varicocele, unblock blockages, or reverse prior vasectomy.
Sperm retrieval: If there is no sperm in your ejaculate, our doctors retrieve them directly from the epididymis or testicles using sperm retrieval methods such as TESA, TESE, etc.
Assisted reproductive technology: ART has helped millions of couples realize their dream of becoming proud parents. We are one of the best IVF center in Mumbai for advanced male fertility treatment. We offer:
ICSI: During intracytoplasmic sperm injection, our doctor injects sperm directly into the egg retrieved from your female partner. The fertilized egg is then implanted into your partner's uterus.
IMSI: Intracytoplasmic morphologically selected sperm injection is a more advanced form of ART wherein a high-powered microscope is used to select the best quality sperm for ICSI treatment.
How can you increase your chances of conception?
Have a healthy lifestyle, eat nutritious food, exercise regularly, and maintain a healthy weight.
Have sex often, especially during ovulation time when fertilization is possible.
Refrain from using lubricants as they may hamper sperm function and movement. If necessary, ask the doctor to prescribe one.
Stay away from things that damage your health, such as alcohol consumption, smoking, and illicit drugs.
Frequently Asked Questions
Oligospermia is a medical term for low sperm count in your ejaculate.  If there is a total absence of sperm in your ejaculate, it is called azoospermia.
Testicular sperm aspiration is an advanced technique that helps retrieve sperm directly from the testisusing a needle.
You should consult a fertility specialist if:
You have swelling, pain, or lump in your testicle region
You have an ejaculation or erection issues, or low sex drive
If your partner is above 35 years
Surgery of the testicles, groin, scrotum, or penis