Post Views: 327
The failure to conceive, even after a year or longer of sexual activity without protection, is a symptom of infertility. This condition can affect both the male and female reproductive systems. While secondary infertility is the inability to get pregnant after a successful pregnancy in the past, primary infertility is the failure to get pregnant at all.
Your chances of getting pregnant can occasionally be hampered by the frequency and timing of your sexual encounters.
Founder of Babies & Us Fertility Clinic and one of Mumbai's top gynecologists', Dr. Hrishikesh Pai, has assisted many people who have had difficulty realizing their dream of starting a family by providing them with effective and reliable treatment options.
This article explains the connection between ovulation and fertility and how it can aid conception.
Understanding ovulation
If you have a regular monthly cycle, there is a fertile period every month when your chances of getting pregnant are higher than at other times.
Ovulation happens when one of your ovaries produces an egg during a menstrual cycle. Your fallopian tubes let the egg pass, and your womb gets ready for embryo (fertilized egg) implantation. Only when the egg and sperm are fertilized can you get pregnant.
Dr. Hrishikesh Pai, a renowned IVF doctor in Mumbai, states that if more than one egg is produced during ovulation and multiple eggs get fertilized, you may become pregnant with more than one child.
How do I calculate the fertile window or period?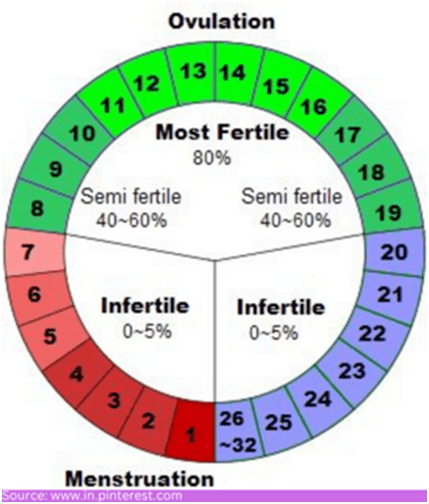 Your fertile window lasts approximately 7 days before your ovary delivers an egg to about 2 days following ovulation. Your fertility is at its optimum, particularly on the day before and after ovulation.
When attempting to get pregnant, determining your reproductive or viable window may take some time.
According to studies, couples who regularly engage in unprotected sexual activity, that is, every couple of days without using any contraception, have a higher chance of getting pregnant. However, this might not always be possible given our busy and demanding lifestyles.
The eminent Mumbai fertility expert Dr. Hrishikesh Pai advises against limiting sex to certain times of the month or depending excessively on unreliable technology.
What if the egg fails to get fertilized?
If you do not conceive, your body absorbs the egg, and the lining of your womb separates, leaving your body with menstruation. Once an egg is discharged, it takes 10 to 16 days for your next period to start.
Please keep in mind that not all women ovulate on the same day of the month. Ovulation issues may result from conditions such as PCOS(polycystic ovarian syndrome) and endometriosis.
Please try not to worry yourself. Feel free to contact Dr. Hrishikesh Pai, a highly-skilled gynecologist in Mumbai, if you are attempting to conceive and are not experiencing regular monthly periods.
The tips provided below should help you identify factors that can raise your chances of getting pregnant.
Log your menstrual cycle
The period between the first day of your period and the day before your subsequent period is referred to as the menstrual cycle. You can determine your reproductive window by noting the beginning and end of your cycle.
If fertilization does not take place within 24 hours of the egg being released by the ovary, the egg dissolves and gets absorbed by your body. If you have sexual activity in the days before ovulation, the sperm will be present when your egg is released because sperm can survive in your body for up to 5 days.
If your monthly cycle is consistent, you may be able to predict when you are more likely to ovulate, but exercise caution to avoid getting it wrong by unnecessarily pinpointing the time.
Examine your cervix
LH (luteinizing hormone) levels in urine will rise prior to ovulation. The ripest egg is released as a result of this hormone.
One of the leading gynecologists in Mumbai, Dr. Hrishikesh Pai, explains that you will also notice a change in the consistency of your vaginal discharge as it will become more slippery than usual. This will facilitate the successful fertilization of the released egg by enabling sperm to reach it more easily.
So keep an eye on your vaginal discharge; if it appears to be thinner and stretchy, like raw egg white, you may be ovulating.
Assess your sexual desire
Sexual desire and hormonal levels are linked, according to several studies. Your ovaries release different hormones when you ovulate, which heightens your urge for sexual activity.
Your reproductive cycle may be at its optimum if you feel exceptionally seductive and have a strong desire for physical intimacy.
Keep a check on your weight
Are you overweight or obese? If so, losing weight can enhance your chances of getting pregnant. A study found that getting pregnant takes twice as long for women who have above-normal BMI (body mass index) as it does for those with a normal BMI.
However, ovulation and conception rates can be significantly increased with a 5%–10% weight drop.
Dr. Hrishikesh Pai warns that infertility can result from being extremely underweight as well as from obesity, which can cause men to have low testosterone levels.
Fertility in women is affected by age
Age causes a drop in fertility, especially beyond the mid-thirties. Additionally, it lessens the possibility of fertility treatments working.
Are you:
Under 35 but have been unable to get pregnant even after having unprotected sex for over a year?
Above 35 and have not been able to conceive even after trying for more than 6 months?
Planning to delay having a child?
If your answer to any of these questions is yes, please speak with Dr. Hrishikesh Pai, a highly qualified IVF specialist in Mumbai, for safe and efficient treatment options.
Age can impact male fertility as well
Studies show that as men age, their sperm quality, motility, and sexual function all drop. But there is never a time when a man is deemed too old to have children. Several studies have revealed that after couples start trying to conceive, it takes men over the age of 45 longer to succeed in getting their partner pregnant.
If your partner is older or has a low sperm count, please do not hesitate to talk to Dr. Hrishikesh Pai about ways to increase your chances.
Tips to increase male fertility
Avoid using tobacco or drinking alcohol
Maintain a healthy weight
Eat a diet rich in selenium (mushrooms, cereals, Brazil nuts), zinc (seafood, meat, whole grains, eggs), and vitamin E (spinach, almonds, sunflower seeds, kiwifruit, shrimp, avocados, wheat germ oil, olive oil)
Manage your anxiety by finding ways to relax or engage in activities you like
Avoid prolonged use of hot tubs, saunas, or hot baths, as these activities may reduce the number of sperm in the testicles
Signs to know if you are pregnant
The common signs of the initial stage of pregnancy are:
A missed period
Frequent need to urinate
Cramps
Fatigue
Swollen and tender breasts
Feeling nauseous early in the morning or through the entire day
An increased sense of smell
Conclusion
If you are attempting to become pregnant, you probably have a lot of queries about the process. Taking care of your body and yourself is a great place to start when trying to increase your fertility.
The most important piece of advice for someone wanting to get pregnant is to educate themselves about their bodies, especially their menstrual cycle.
Please act quickly if you have explored every possibility but are still unable to conceive. Make an appointment with renowned fertility doctor Dr. Hrishikesh Pai to determine the reason for the delay and the most effective course of action for you.
One of the most reputable gynecologists in Mumbai, Dr. Hrishikesh Pai has more than 35 years of expertise and knowledge in his area. He has helped countless people to realize their dream of becoming parents.
You can visit him at Babies & Us Fertility Clinic, a state-of-the-art facility often regarded as the best IVF Center in Mumbai.